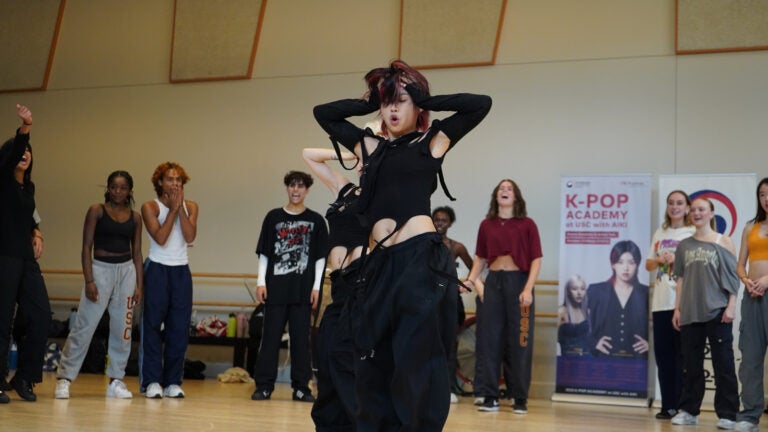 South Korean dance star Aiki brings K-pop moves to USC Kaufman
The dancer and choreographer, one of Korea's most popular TV personalities, touched off a dynamic exchange of movement and culture during her weeklong residency.
In a studio at the USC Kaufman School of Dance, K-pop choreographer Aiki paused her instruction to marvel at a student's performance. Aiki had just taught a complex floor move, and fourth-year student William Okajima executed it while sending one leg skyward.
"I never thought about expressing it that way!" Aiki said through an interpreter.
The moment captured the lively exchange of movement and culture made possible by Aiki's weeklong residency of dance workshops last month. Her classes offered USC Kaufman students a crash course in K-pop dance, a genre that puts Western dances like jazz, hip-hop and dancehall in a blender with contemporary Korean influences. In turn, the students gave Aiki a window into American dancers' style and flair.
Aiki (Kang Hyein) is a one-name celebrity in her native South Korea. She has created signature moves for some of K-pop's biggest musical acts, including BTS and the Refund Sisters. Her viral dance videos garner millions of views, and her combined Instagram and TikTok following numbers more than 4.4 million.
The star traveled to Los Angeles from South Korea at the invitation of USC Kaufman and the Korean Cultural Center of Los Angeles' K-Pop Dance Academy. Hye Jin Lee, an assistant professor of communication at the USC Annenberg School for Communication and Journalism who was instrumental in coordinating Aiki's visit, served as her translator during an artist talk on Oct. 25 and in conversation with the media.
But during the dance workshops, Aiki's expression transcended language barriers.
"Dance is a second language," Aiki said. "You're able to communicate just by the movements. And everybody's able to pick it up just through the counts."
Her visit was a prelude to a dance-intensive study abroad program for USC Kaufman students in Seoul, South Korea, happening Dec. 14-22, in partnership with the Korean Foundation for International Cultural Exchange and the Dance Department at the Seoul Institute of the Arts. Daily workshops will explore the relationship between K-pop and hip-hop dance, and the American and Korean dancers who participate will collaborate on a joint performance.
"K-pop has exploded as a global phenomenon in the past 10 to 15 years, and now individuals all over the world are fans of K-pop music and choreography," said Julia Ritter, dean of USC Kaufman. "Our students understand now that a career in K-pop is a possibility, which expands pathways for them into the performing arts industry. Studying with a renowned artist like Aiki and traveling to South Korea this winter are invaluable experiences for our dancers. It makes them more versatile artists and better world citizens. When we say that USC Kaufman is international, we mean it."
Bringing teaching talent of Aiki's caliber to USC is part of President Carol Folt's "USC Competes" initiative. The goal — one of five "moonshots" laid out by Folt for the university — is to increase USC's investment in highly accomplished faculty, as well as scholarships and aid, ensuring that USC attracts and retains students who are "the best of the best" in every field.
Stepping onto the world stage
Aiki's rise to global recognition began in 2019 when she traveled to L.A. to appear on World of Dance. The NBC reality show, which featured Jennifer Lopez as a judge, put international dance talent and teams in competition with one another. Aiki's duo All Ready finished the season in fourth place.
In 2021, Aiki led her dance crew HOOK in the debut of Mnet's Street Woman Fighter, a popular South Korean dance reality television show. Winning second place on the show's first season made Aiki a household name in Korea. The show also raised the profile of choreographers in the K-pop industry.
Most K-pop hits have dedicated dances designed by professional choreographers to go viral. "Now people are aware of who's behind the dance," Aiki said. "Dancers have their own fandom … just like the K-pop idols." Earlier this year, she headlined her first solo concert of dance performances for her fans in South Korea.
5 FUN FACTS ABOUT AIKI

Favorite American food: Mac and cheese
Favorite Los Angeles activity: Swimming at Santa Monica beach
Favorite song to sing: "Shallow" by Lady Gaga
Favorite K-pop point choreography: "Super Shy" by NewJeans
Favorite way to make a dance go viral: Keep it simple!
Despite her fame and her experience teaching dance at a university in Korea, Aiki had not previously interacted with dance students in the United States. That was one of her primary motivations for accepting the invitation from USC Kaufman and the Korean Cultural Center. She was as excited to learn from her American counterparts as she was to teach them, citing American hip-hop music and dance as among her most significant influences.
"When I first learned hip-hop dance, it was through songs by Nas and Biggie [aka The Notorious B.I.G.]," said Aiki, whose favorite contemporary acts to dance to include Beyoncé, Cardi B and Dua Lipa.
Lee, who teaches a course on the evolution of K-pop at USC Annenberg, noted that Koreans first gained exposure to hip-hop through various channels including the American military presence in Korea. "We still see the influence in today's K-pop and Korean hip-hop songs," Lee said.
Swapping movement styles
Aiki and Odd — Aiki's dance assistant and a member of HOOK — prepared two dances to teach to the USC Kaufman students, one set to "BIBI Vengeance" by BIBI and the other to "3D" by Jungkook of BTS.
"We wanted to show USC Kaufman students what kind of dance moves are considered cool, hip and trendy [in K-pop] right now," Aiki said.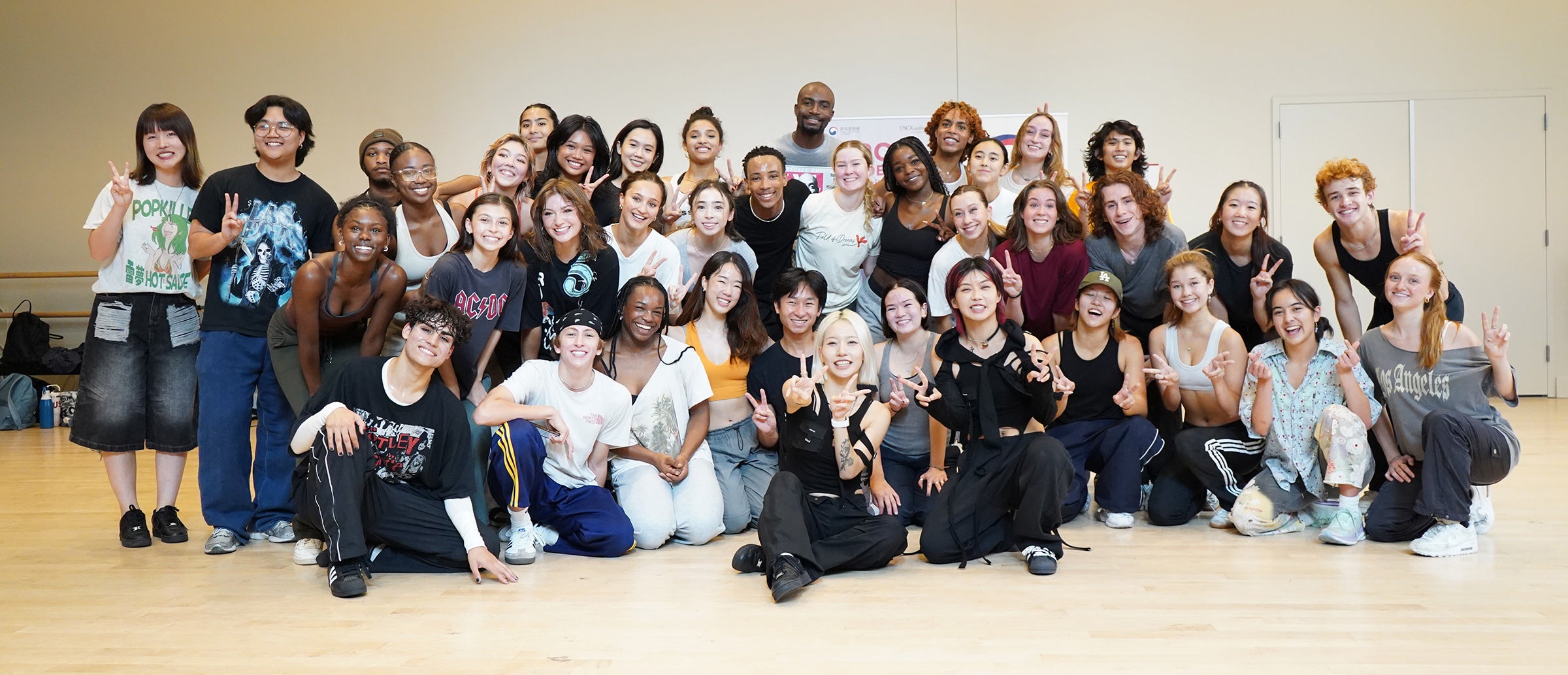 The choreography immersed the students in K-pop's intricate movement vocabulary. One moment, they sliced the air with arms as rigid as knives. The next, they were loose as rag dolls, folded forward with heads sweeping in figure eights. They twerked, they whacked, they slithered on the floor.
"There are a lot of different gestures involved, very specific and detail-oriented," Aiki said. "You have to memorize so many different movements for a very short run of the music."
Aiki noted that because K-pop dance performances tend to be highly synchronized, dancers in Korea are often confined to specific movements.
"When they're taught to move in a particular way, they'll copy it, but they're not able to freely express beyond that," Aiki said. "But here, I was able to see how students were able to bring their own personality. Even though it's the same instruction, they would express it in a very different way and bring their individuality into the performance."
Aiki wrapped up the week with a dance workshop in the USC Kaufman courtyard open to all USC faculty, staff and students. She taught "point choreography" — dance moves that accompany the chorus or hook of K-pop songs. These combinations are easy to execute and memorize, making them accessible even to those without dance experience and lending them viral appeal.
Aiki said she appreciated the opportunity to enrich the USC community's knowledge of K-pop and forge new bonds, finding her interactions at USC to be warm and welcoming. "I really appreciated … that students were so polite and nice," said Aiki. "I was able to feel the respect that they had for me as an artist."