If climate anxiety keeps you up at night, you aren't alone. USC experts talk eco-grief, climate action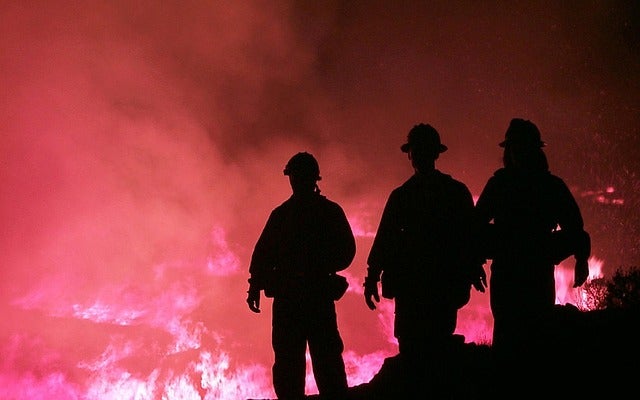 Every day, we face the harsh reality that the Earth is in distress. Extreme heat, catastrophic floods and fires, and other natural disasters are pushing ecosystems and communities around the world to their limits. Eco-grief and climate anxiety are among the phrases used to describe the feelings of dread and despair that come with bearing witness to the planet's suffering.
These feelings are rational, USC experts say, and can be channeled into hope and action.
Contact: Nina Raffio, raffio@usc.edu or (213) 442-8464
Why it's so hard to measure the true toll of climate change on human health and well-being
"Severe weather events are upending people's lives and well-being—they are taking loved ones, decimating people's homes and livelihoods, and leaving our neighborhoods unrecognizable in their wake—each of which has real and lasting health consequences," said Emily Smith-Greenaway, an associate professor of sociology and spatial sciences at the USC Dornsife College of Letters, Arts and Sciences.
"But perhaps what is even more concerning is that after the initial disaster abates—and the news crews pack up to move on to cover the next weather event—we know that the health impacts of these events can linger and even accumulate with time. This makes it difficult for both ordinary people to fully appreciate, and scientists to track empirically, the true toll that climate change is having on our population's health."
Contact: smithgre@usc.edu
Community engagement bridges the gaps between scientific knowledge and real-world experiences of eco-grief, trauma
"Communities are angry and exhausted from having to prepare for multiple disasters at the same time. It can be so overwhelming that people disengage entirely. That's why we need to work directly with communities to understand their needs before and after disasters," said Santina Contreras, an expert in community-engaged environmental planning and an associate professor at the USC Sol Price School of Public Policy.
"We have amazing science to help find solutions, but if it is disconnected from the people that are experiencing these issues firsthand, then there is still so much we don't know unless we talk to them."
Contact: santinac@usc.edu
To counter eco-grief, experts recommend tapping into the therapeutic benefits of engaging with local nature
"There is a growing movement to help people process their eco-grief and climate anxiety through cultivating a deeper personal relationship with nature and tending to nearby nature at the hyper local level," said Camille Dieterle, an expert in health and wellness who has led workshops on coping with eco-grief.
Dieterle recommends gardening at home or in a community garden, learning about and getting involved in local initiatives to restore land and habitats to help cope with eco-grief.
"Interacting with nature is calming in and of itself, and there is the added layer of feeling a sense of contribution to current problems," said Dieterle, who is an assistant professor of clinical occupational therapy at the USC Chan Division of Occupational Science and Occupational Therapy.
Contact: dieterle@chan.usc.edu
Civic engagement is a valuable outlet for processing climate anxiety, but experts say it's okay to disconnect, too
"People may want to channel their climate grief and anxiety towards finding information, experiencing collective feelings, or bearing witness online. To feel less helpless, they may want to participate in climate politics, such as leaving comments in local or federal registers, calling elected officials about climate policies, and/or to showing up to virtual (or in-person) town halls where people address leaders," said Christina Dunbar-Hester, an expert in tech-powered activism and professor at the USC Annenberg School for Communication and Journalism.
"Logging off is always an option if one would feel better disconnecting for a while. The urgency of these issues and campaigns will still be there when you log back on."
Contact: dunbarhe@usc.edu
We can still reverse climate change. But we need to act fast.
"A central finding in psychology, and one that's backed up by history, is that people often fail to act in the face of an impending crisis until it's too late. Climate change has proven to be no different," said Joe Árvai, director of the USC Wrigley Institute for Environment & Sustainability, whose research focuses on how people make decisions about environmental issues and sustainability.
"Influential decision-makers are finally noticing and acting. Never mind that most politicians aren't among them. The insurance industry has stepped in and is refusing to issue policies. Businesses and supply chains are relocating or closing. Prices are rising. The big question now isn't can we reverse the rapidly rising tide that is devastating climate change—we can. The real question is, will we do it fast enough?"
Contact: arvai@usc.edu
How lessons from the past inspire hope for the future
To David Bottjer, an expert in paleoclimatology and evolutionary biology, studying past mass extinction events throughout Earth's history could help us understand—and mitigate—the impacts of climate change today.
"Knowing which modern ecosystems are likely to suffer the most will allow for establishment of strategies to enable these settings to recover in more rapid fashion," said Bottjer, professor of earth sciences, biological sciences and environmental studies at USC Dornsife.
"If these modern stresses continue beyond expectations, a very important product from investigating ancient mass extinctions will be to predict where refugia might exist for organisms to best survive the current mass extinction."
Contact: dbottjer@usc.edu
Additional Experts
Wändi Bruine de Bruin is an expert in public perceptions of climate change and sustainability, science communication, and the psychology of risk perceptions. She is provost professor of public policy, psychology, and behavioral science at the USC Sol Price School of Public Policy, and director of the USC Behavioral Science and Well-Being Policy initiative. Contact: wandibdb@usc.edu
###
William Deverell is an American historian and expert in environmental history, specifically wildfires. He is the founding director of the Huntington-USC Institute on California and the West and a professor of history, spatial sciences and environmental studies at USC Dornsife. Contact: deverell@usc.edu
###
Pamela Tobi Fishel is a clinical psychologist and clinical associate professor of pediatrics at the Keck School of Medicine of USC. Fishel has led workshops on how to cope with climate anxiety. Contact: tfishel@usc.edu
###
Carly Kenkel is an expert in coral reef restoration and resilience and the Gabilan assistant professor of biological sciences at USC Dornsife. Contact: ckenkel@usc.edu
###
Lowell Stott is an expert in oceanography, climatology, atmospheric CO2, and geochemistry. He is a professor of earth sciences at USC Dornsife. Contact: stott@usc.edu
###
(Photo/AP Photo/Ty O'Neil)
Are you covering science or climate change matters for your news outlet? The USC Annenberg Center for Climate Journalism and Communication offers training and climate storytelling resources for journalists, communication professionals, and students looking to enhance their climate reporting skills. For more information, contact Allison Agsten, the center's director, at agsten@usc.edu.